Add efficiency, safety and security to your farming enterprise.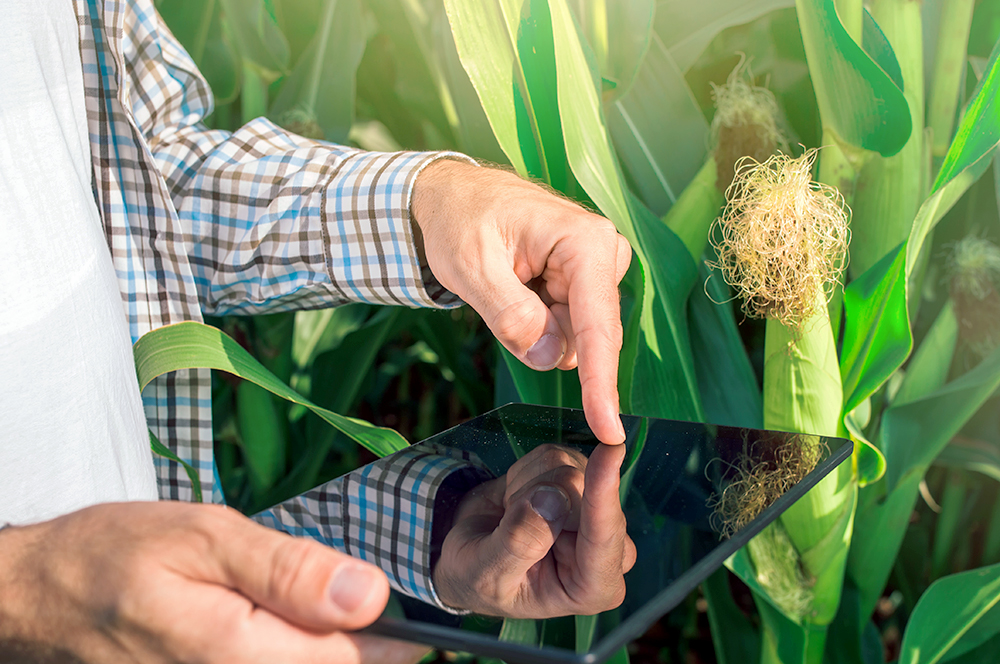 Modern farming is a complex and difficult business that requires a great deal of technology for efficiency and success. According to Joe Hossle, a farm operator in Southwest Iowa, the enduring concept of farming as a way of life is off-base.
"This is a business that is every bit as complicated as any other manufacturing concern," said Hossle. "Any farmer that wants to be successful needs to pay attention to every detail of the operation, from the costs of fuel, seed, feed and fertilizer, to the efficient use of each of these important means of production. And of course, managing the operation to get the best yields possible is fruitless if the harvested crop is ruined by poor management of drying and storage operations."

What is a Smart Farm?

The Clear2there smart farm concept leverages broadband services, mobility and a broad range of measurement, monitoring and management technologies to enable remotely managed security and control over a variety of systems throughout the farming operation. A major element of the smart farm solution is the seamless ability to monitor and control systems and situations from any mobile device connected to the internet.
Every farm has different needs based on the size and type of operation, but the smart farm concepts of monitoring and management are fundamental to keeping every one of these enterprises running smoothly.  The Clear2thereViewbiquity Cloud Application Suite (VCAS) enables the creation of a customized combination of surveillance, access control and monitoring solutions.  The comprehensive service delivered through the VCAS solution enables users to access data and images from all of the different sensors and devices in use throughout the enterprise from any internet-connected device – including smartphones, tablets and computers.
In a farming operation, time and property are immensely valuable.  Clear2there solutions make it possible to more efficiently manage many of the everyday responsibilities that exist in a modern farming enterprise.  The Clear2there VCAS platform supports:
Feed and water supply sensors

Monitors and controllers for livestock feeding operations

Pivot irrigation monitoring and management systems

Temperature and airflow sensors for poultry and hog confinements

Industrial controllers that can operate ventilation fans, louvers and curtains

Monitors and alerts for power utilization, water flow and use, and emergency back-up generator testing and status

Clear2there Bin Monitoring Solutions
Clear2there is proud to partner with BinMaster, the leading provider of reliable, solid-state point and continuous bin level indicator and control systems.  BinMaster's SmartBob grain bin level sensors seamlessly integrate with Clear2there's comprehensive smart-farm monitoring and control solutions using the Clear2there Viewbiquity Cloud Application Suite (VCAS) service platform.
The Future of Bin Management
Automated grain bin monitors measure the height of grain in the bin and calculate the remaining capacity. Without this type of measurement capability, a farmer must often climb the ladder to the top of the bin and visually check on the levels of grain. Injuries sustained from falls—both from grain bin ladders or into the bins themselves—are virtually eliminated using this technology.
The level of each bin is displayed graphically in the Viewbiquity application. In addition, using the rules feature, an immediate notification can be sent if bin levels change unexpectedly—such as if a theft is underway. With bins often located in unattended areas, this capability has critical value.
Once the simple to deploy bin sensors are wired for power, you can be done with inefficient and dangerous methods of bin level monitoring and begin taking accurate, automated measurements, including:
Distance to the grain (headroom), indicating how much bin room remains

Height of the grain from the bottom of the bin

Percentage full based upon the bin's height and diameter

Conversion to the number of bushels in the bin
As farming operations grow in size and complexity, more farmers are storing grain in large bins on their own property, rather than taking it to area feed mills. A grain bin monitoring system from Clear2there can track not only product levels, but also temperature and humidity. Monitoring temperature and moisture content during the drying process can help to control energy consumption by delivering notifications when target levels are achieved. This can also prevent over-drying that can reduce the value of the grain at market.

Clear2there Poultry Farm Solutions
Maintaining a comfortable and stress-free environment is essential to ensuring optimal production in poultry farming. Equipment must be working properly to control the temperature, humidity, light and ventilation at ideal levels. Clear2there makes it easy to remotely monitor and manage critical environmental factors that can impact poultry farm profitability. Key factors and concerns that can be addressed by the Clear2there solutions include:
Video Surveillance & Access Control: Reduce the risk of theft, vandalism, bioterrorism and other crimes with live video monitoring and real-time access notification alerts delivered via text, email and phone.

Temperature: Heat stress can slow feed intake, decrease resistance to infection and, in extreme cases, kill livestock. Convenient monitoring helps to ensure building temperature stays within the optimal target range.

Ventilation Fans: Moving and refreshing stagnant air in a poultry barn or building creates a healthier and more productive farming environment. Receive an immediate alert if a problem arises with ventilation fans or generators.

Humidity: Lower relative humidity can result in a dusty barn and high heating costs, while higher relative humidity can lead to wet litter and high ammonia concentrations. Effective monitoring helps to ensure relative humidity levels stay within the desired threshold.

Feed Bin Levels: Eliminate the need to climb to the top or pound on the side of a bin to assess the fill level. With Clear2there, current feed levels are instantly available from any location.
Along with the protection and peace of mind Clear2there Smart Farm automation solutions provide, they can also deliver potential cost-saving benefits courtesy of your insurance company. In some cases, a farming operation may be eligible to receive insurance discounts for implementing qualified premises monitoring and automation systems. Check with your insurance provider to see if Clear2there solutions may qualify for special discounts under your policy.