Clear2there provides affordable, reliable and innovative video surveillance solutions.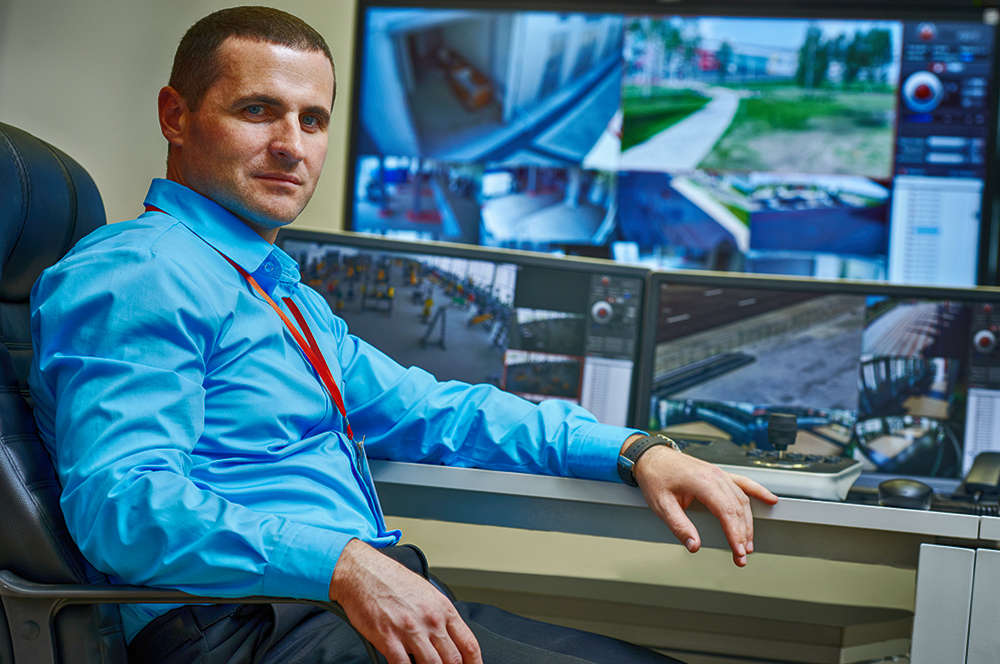 Clear2there is a leading provider of competitively priced best-of-breed video surveillance solutions and services. Whether the need is for an entry level video surveillance system or a multi-site enterprise system deployment, Clear2there can help. We offer a complete line of analog and IP video surveillance cameras, including indoor/outdoor; pan, tilt, and zoom (PTZ); night vision; dome; bullet; and megapixel options, all fully-integrated with Clear2there cloud-based, on-premises, and hybrid video storage solutions.

Clear2there Video Surveillance Cameras
Clear2there offers an expansive array of video security cameras to meet specific video surveillance environment and budget requirements. Whether you need video surveillance cameras for commercial or residential settings, Clear2there delivers a broad selection of IP and analog camera options to choose from, including:
Megapixel IP Cameras:  These cameras can capture video in higher resolution and provide greater detail for improving identification of individuals, license plates, vehicles, etc.

PTZ Cameras: A PTZ camera, with the ability to rotate on a 360 degree plane, provides pan, tilt and zoom functionality, enabling multiple viewing angles and wider area coverage as well as improved details when zooming in.

Dome Cameras:  Dome cameras are harder to spot, making them a better choice for a more covert deployment.  Unlike with a bullet camera, the dome housing serves to conceal what is being captured, since it is difficult to tell the direction in which the camera lens is pointing.  Additionally, a dome camera can rotate 360 degrees to cover a larger viewing circumference.

Bullet Cameras: Bullet cameras offer easy installation, weatherproof durability and a longer capture range, making them better suited for viewing large areas such as a parking lot or an expansive back yard.  Plus, because bullet cameras are more visible and noticeable, they can serve to discourage vandalism or theft before it occurs.

Night Vision Cameras: Night vision security cameras are able to monitor low light to completely dark environments via IR illumination.  This functionality can prove especially useful for after-hours video surveillance and monitoring.

Fisheye Cameras: Clear2there's fisheye cameras are perfect for outdoor installations that require superior picture quality while providing superior protection against dust, dirt and water. These cameras offer the widest angle of view possible and are well-suited for a variety of applications.

Clear2there Cloud Video Storage

Clear2there's cloud video storage option eliminates the need to maintain a rack of servers on premises, and provides fully redundant controls to store, manage and review video surveillance footage from any location. With our cloud video storage solution, you can eliminate the need to buy, install or maintain an on-site video recorder. This can eliminate costs tied to the recording equipment, supporting hardware, service contract and maintenance for on-site video recorders. Instead, you only pay a low cost activation fee and an affordable monthly service charge, which includes service, support, updates, camera licensing and cloud video storage.  Key benefits of Clear2there Cloud Video Storage include:
Reduced Cost


No servers and hard drives on site
No hardware required to increase storage
No special training needed to use or manage

Enhanced Reliability


Double-parity redundancy
24×7 server health monitoring
No recorder on-site to disable or remove

Advanced Feature Functionality

HD quality, 15 to 30 FPS
Accessible from anywhere
Overlay events on video, users can see / read what was occurring while viewing video
Quickly search video by events initiated by any device or alarm
15 seconds cloud pre-record without onsite SD or storage or constant streaming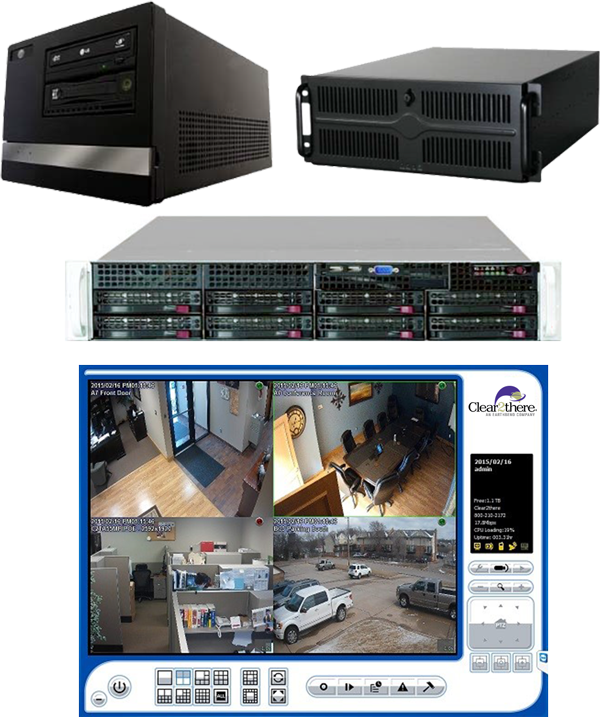 Clear2there HDVR Hybrid Video Recorders

Clear2there's hybrid video recorders support capture of video and data from our complete line of analog and IP megapixel cameras.  Existing analog equipment investments can be protected while also making available the many benefits of the latest network IP technology.  Upgrade your video surveillance system to IP technology at the pace that is right for you.
Clear2there's powerful and easy-to-use client enables you to connect to multiple HDVR servers to view up to 128 cameras simultaneously. Video from your HDVR system can be accessed via a desktop PC, smartphone, or tablet device. Via remote monitoring, you can view live and recorded video from anywhere to monitor your video deployments and react quickly to alarms and events.
Other key features and benefits of Clear2there HDVR hybrid video recorders include:
Investment Protection: Provides seamless integration and recording of analog and IP cameras.

Embedded Analytics:  Safeguard properties with live event notifications, smart search capabilities, point-of-sale events, digital input events and system events. You can even keep track of traffic with a built-in counting application.

Remote Viewing:  HDVRs can be viewed using any desktop computer, laptop computer, iPad, Android tablet, iPhone or Android smartphone.

Stream Transcoding:  Record and stream at different resolutions and frame rates with the HDVR. High bandwidth video streams can be transcoded into a much lower bandwidth stream for remote viewing.

Easy-to-Use Interface:  Multiple recording modes can be set for individual cameras or globally,  specific rights/parameters can be assigned based on user need, and each camera can be set for quality, frame rate, resolution and recording schedules.

Stream Relaying:  This feature enables duplication of a single camera multiple times on the screen for region of interest viewing, allowing a user to digitally zoom in on specific areas of view while still recording the original stream.

Auto Load Balance and Backup:  Auto load balance increases data writing and reading efficiency to optimize hard drive recording performance.  Recorded data can be backed up automatically to external storage devices including DAS, SAN or iSCSI based on a pre-defined schedule.